---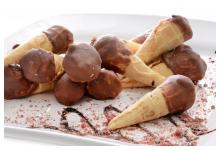 Garner Wafers was established in 1997 mainly as a sugar cone manufacturer.  Over the past few years via word of mouth and hard work Garner Wafers has increased its product base from not only sugar cones, but also sweet confectionery products, chocolate coating lines and waffles.  We are Halaal accredited and we are also very proud of our BEE status of a Level 2 Contributor.  Through our sister company Frankly Fantastic Foodstuff, we also manufacture frozen ice cream desserts.
Garner Wafers is owned by Elsabe Hoal and Shaheed Hendricks who is very passionate about their business and the 60 plus people working in this company.  We try to innovate for all of our customers to give them a competitive edge in the market.   "We innovate with the sugar on top."
When you finish browsing through our web page and you do not feel like eating something decadent - please email us - as then we know we must do something more about this already stunning website.
News & Events
Our stunning Nikita busy with a photo shoot for our newly Flambe range that will launch in January 2018.  In the photo is the Peppermint Crisp Flambe with Jan Theron Photography.
Our own Branded Cone Sleeves.  It is so nice to walk in the streets and people are laughing and eating ice creams in a Garner Cone.  We pack our own cones with our Logo on the paper sleeve that protects the cone and can be served without the staff touching the cone.  Another innovative idea that puts Garner Wafers above the rest!